| | |
| --- | --- |
| Railway Assistant Station Master (ASM) Exam coaching in jalandhar | Helpline : 9464645100 | 9463138669 |
Call 9463138669, Anand Classes –
RRB Railway Assistant Station Master (ASM)
Exam Coaching Center in Jalandhar.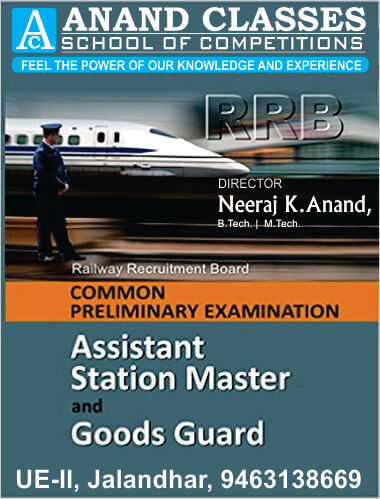 ANAND CLASSES offers RRB Railway Assistant Station Master (ASM) Exam Coaching in Urban Estate Phase-II Jalandhar. ANAND CLASSES is the prevalent establishment in the Jalandhar for RRB Exams. It is surely famous for its selective class management classes and productive Best RRB Railway Assistant Station Master (ASM) Exam coaching institute in Jalandhar.
The faculty at ANAND CLASSES is highly qualified and vastly experienced in successfully coaching students for RRB Exams.
ANAND CLASSES is known as leading institute for preparation of RRB Railway Assistant Station Master (ASM) Exam Coaching in Jalandhar. We at ANAND CLASSES provide coaching for RRB Recruitment Exams from the past 15 years. The RRB Recruitment Exams Coaching Center in Jalandhar, Punjab.
Fresh batches for RRB Railway Assistant Station Master (ASM) Exam are going to start. ANAND CLASSES Coaching Institute is the only well known coaching institute in Jalandhar that provides coaching for RRB Exams. At ANAND CLASSES Coaching Institute, we constantly strive to improve our teaching methodology, study material and classroom assignments. The Course Methodology is dynamic as it takes into account the changes that we notice in the pattern of the examination.
ANAND CLASSES is a professionally managed and organized RRB Railway Assistant Station Master (ASM) Exam coaching centre in Jalandhar, offering best coaching and preparing the job aspirants in Railway Department.
ANAND CLASSES works as per the trend of the questions asked in the following RRB Assistant Station Master (ASM).
In order to give the candidates the best coaching in every possible way, ANAND CLASSES is the Best Coaching Institute for RRB Assistant Station Master (ASM) Exam in Jalandhar.
Assistant Station Master is one of the most important official on a railway station. Indian Railway is one of the largest and busiest railways network in the world having a capacity of transporting seventeen million passengers and more than two million ton of fright daily with the help of 2,25,000 wagons, 45,000 coaches and more than 8300 locomotive engines of various kinds.
To do this huge task daily Indian railway has nearly 1.6 million employees on its role in technical and non technical category ranging from a cleaner to DGM.
Assistant Station Master also known as ASM is one of these important post in this long hierarchy of the railway staff. He is the person who has the responsibility to supervise all the task on the railway station. Assistant Station Master is the sole authority of all happening on a particular station. He is the person on whose shoulders lies the responsibility of safe arrival and departure of the train from the railways stations he is posted on.
One has to be really dedicated and hardworking to handle this all important work. The job of an ASM demands intensive training with loads of added responsibility to carry hundreds of lives to their destination safely. For this one should have discipline, patience, sense pf responsibility, punctuality, commitment and self-confidence. The job requires lots of hard work, stamina, alertness of mind, adaptability to follow difficult time schedules and good team spirit. Although he is provided with a full team of technical and non technical staff to share this responsibility but an ASM is the most important person on a Railway station because he never gets a chance to rectify his mistake if committed during discharging his duties.
To discharge his duties efficiently and effectively he requires special training and knowledge.
Eligibility to become an Assistant Station Master
1. Educational Qualification
To be eligible to become an Assistant Station Master in India one should be a graduate in any discipline.
Diploma in Rail Transport and management from the Institute of Rail transport will be an added advantage to get this job.
2. Age
The aspiring candidates should not be less than 18 years and more that 33 years.
How to become an Assistant Station Master?
To become an Assistant Station Master one has to follow the below given steps:
Step 1
To become an Assistant Station Master one has to apply for the competitive exam to be held for the job whenever declared by any of the 17 RRBs of different zones in the Indian Railways.
Step 2
After clearing the RRB exam (consisting of nearly 150 questions on G.K, Aptitude, Mathematics and General English) held for the post of ASM and getting the necessary training one is posted on a Railway station along with a SM. Some time he may also get an independent charge of a small railway station.
Assistant Station Master Salary
The pay scale of a newly appointed ASM is Rs.15,000 to-Rs.20,000.However these pay scale keep or revising whenever new pay commission set in.
They also get attractive remuneration and incentives including contributory provident fund, gratuity, medical facilities and free/concessional Railways passes etc. They are also provided with a range of benefits and allowances in addition to housing facilities, medical expenses and out-station allowances, as well as free/concessional Railways passes for their immediate family members and dependants
Assistant Station Master Career Options
After starting from an ASM the next step is SM and with time and experience one can reach at the apex of the hierarchy level.
Railway Recruitment Board (RRB) has issued a notification for the job seekers. Aspirants who are waiting for the opportunity can utilize this chance and apply for the empty 18252 posts in various departments. Candidates who are willing to work under RRB for a better settlement after graduation can apply for this RRB Assistant Station Master recruitment. The main requirements for this exam is follows :
AGE LIMIT: Age limit of the applicants should be 18 to 32 years.
EDUCATIONAL QUALIFICATIONS
Candidates should have requisite educational qualification from a recognized Board/University/Institute, including degrees obtained through non formal/distance education provided he or she have completed 12 years of schooling through an examination conducted by the Board/University OR has passed an entrance test conducted by the university and is not below 18 years of age on 1st July of the year of admission to the course and the degree so obtained is of 3 years duration as on the date of the submission of the online application for the Centralized Employment Notice. Those awaiting results of the final examination need not apply
EXAMINATION
| | |
| --- | --- |
| Subject | Marks |
| General knowledge | 20 |
| General Science | 30 |
| Mathematics | 25 |
| General Intelligence | 25 |
NOTE:
• The Exam is of Objective type i.e it consists of Multiple Choice Questions.
• Duration of the exam is of 90 Minutes.
• The exam consists of 100 Questions
• The exam is conducted for a total of 100 Marks.
• There will be a negative marking of 1/3rd for each wrong answer.