| | |
| --- | --- |
| GIC Officer Exam Coaching center | Helpline : 9464645100 | 9463138669 |
Call 9463138669, Anand Classes – General Insurance Corporation of India (GIC) Officer Exam Coaching Center in Jalandhar.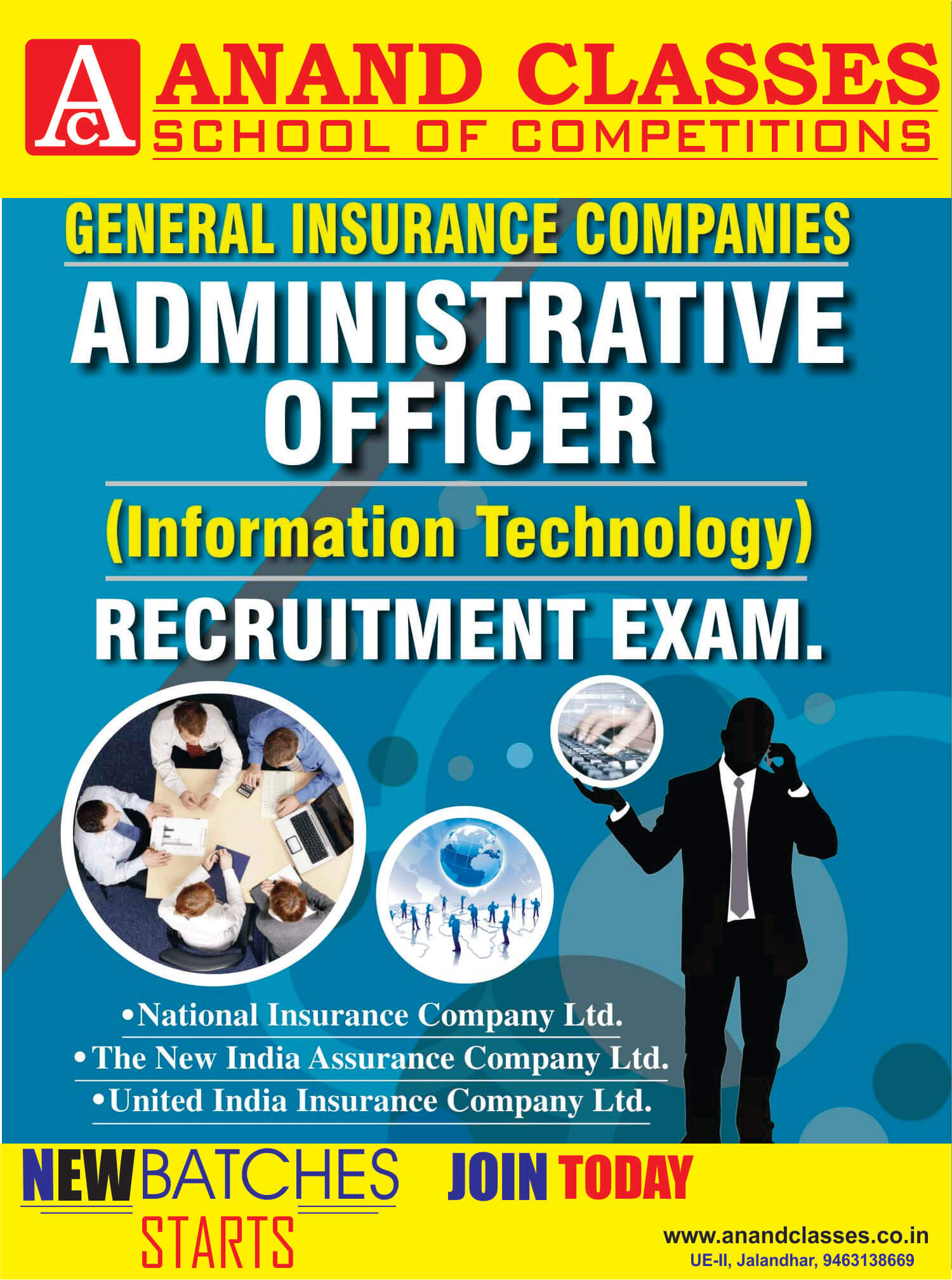 ANAND CLASSES offers GIC Officer Exam Coaching Center in Urban Estate Phase-II Jalandhar. ANAND CLASSES is the prevalent establishment in the Jalandhar for GIC Officer Exam. It is surely famous for its selective class management classes and productive Best GIC Officer Exam Coaching Center institute in Jalandhar.
The faculty at ANAND CLASSES is highly qualified and vastly experienced in successfully coaching students for GIC Officer Exam.
ANAND CLASSES is known as leading institute for preparation of GIC Officer Exam Coaching Center in Jalandhar. We at ANAND CLASSES provide coaching for GIC Officer Exam from the past 15 years. The GIC Officer Exam Coaching Center in Jalandhar, Punjab.
Fresh batches for Insurance Recruitment Exam are going to start. ANAND CLASSES Coaching Institute is the only well known coaching institute in Jalandhar that provides coaching for GIC Officer Exam.
At ANAND CLASSES Coaching Institute, we constantly strive to improve our teaching methodology, study material and classroom assignments. The Course Methodology is dynamic as it takes into account the changes that we notice in the pattern of the examination.
GIC Officers Exam - A combined competitive examination for recruitment to the posts, of Assistant Administrative Officer (Generalist) in the various companies of General Insurance Corporation of India (GIC), i.e.,
1. National Insurance Company Ltd., Calcutta;
2. The New India Assurance Company Ltd., Mumbai;
3. The Oriental Fire and General Insurance Company Ltd., New Delhi; and
4. United India Insurance Company Ltd., Chennai.
GIC Officers Exam Eligibility
Eligibility conditions for taking GIC Officers exam are as follows:
Educational Qualification
Bachelor's degree of a recognized University in any discipline or its equivalent recognized as such by the Central Government with minimum 50% marks.
Age
Aspiring candidates should be between 21 years and 30 years. Relaxation in upper age limit is as per rules for specified categories including SC/ST/OBC etc.
Nationality
A candidate must be either a citizen of India or one holding eligibility certificates issued by the Government of India.
GIC Officer's Exam Pattern
This exam of Bank Recruitment in India consists of following three steps selection process.
Step 1
Written Exam:
Candidates will be called for an objective type examination. The objective type examination will consist of four tests viz.
Subject

No of Questions

Time Allowed

Test of Reasoning

50

2 Hr.

Test of English Language

50

Test of Professional Knowledge

50

Test of General Awareness

50

Total

200
Note: There is negative marking of ¼ marks for each wrong question
Step 2
Group Discussion & Interview:
Qualifying candidates will be called for Group Discussion and Interview and the shortlisted candidates from Step 2 will be considered for final selection to the post of GIC's officer.
GIC Officers Exam Syllabus
The syllabus of this type of Bank Exams Papers includes:
Syllabus for the Objective type exam
1. Test of Reasoning:
This test would include questions of both verbal and non-verbal type. The test may include questions on analogies, similarities, differences, space visualization, problem-solving, analysis, judgment, decision-making, visual memory, discrimination, observation, relationship concepts, arithmetical reasoning, verbal and figure classification, arithmetical number series, etc. The test will also include questions designed to test the candidate's abilities to deal with abstract ideas and symbols and their relationships, arithmetical computation and other analytical functions.
2. Test of English Language:
This is a test to see how well you know English. English language ability would be tested through questions on grammar, vocabulary, sentence completion, synonyms, antonyms, comprehension of a passage, etc.
3. Test of Numerical Ability:
Questions will be designed to test the ability of arithmetical computation of whole numbers, decimals and fractions and relationship between numbers. The questions would be based on arithmetical concepts and relationship between numbers and not on complicated arithmetical computations.
4. Test of General Knowledge and General Awareness
The questions in this paper will be set up to known the general awareness of the candidates about the various events going out in the daily routine and their background.
G.I.C Officers Exam Date
This test is usually held in the month of February