Helpline : 9464645100 | 9463138669

ANAND CLASSES offers NDA Coaching in Urban Estate Phase-II Jalandhar, Punjab and is known as best institute for preparation of NDA coaching in Jalandhar. We at ANAND CLASSES provide coaching for NDA from the past 15 years. The Best NDA Coaching Center in Jalandhar, Punjab.
Questions related to National Defence Academy & Naval Academy Exam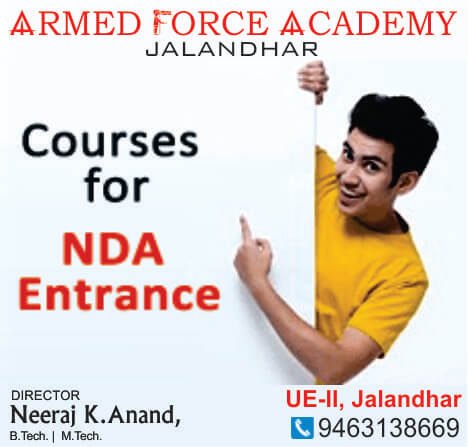 Que. I want to appear in NDA exam, how should I prepare for it? Please help.
As basic skills and time management of the candidates is accessed in NDA exam. For that you have to updates basic concept of Mathematics, Physics and Chemistry of +2 level, Improve your GK and current affairs knowledge as well as brush up your Basic English grammar skills. To be sure to clear NDA exam you have to put some extra time along with your regular studies for preparing for NDA exam thoroughly. For revision you can take help of school NCERT books and practice NDA papers of previous years.
Que. I want to become an Army officer, which exam I have to take to fulfill my dream?
NDA stand for - National Defense Academy- the NDA-NA exam is taken by UPSC to select fighting fit +2 candidates to be inducted in the India defense forces after completion of their training in NDA, OAT, AFA and NA as per their choice and capabilities.
Que. I have to appear in NDA exam 2016, can you help me to know the syllabus of NDA exam?
NDA exam consists of Questions from Mathematics, Physics, Chemistry, Geography, history and English. These questions are set to check the basic skills of the candidate. Level of questions in NDA exam will be that of +2 class.
Que. I have done my 12th exam and attained the age of 17 year, am I eligible for NDA exam?
Age and education is two of many eligibility conditions for appearing in NDA exam to become officer in India Defense Forces which fortunately you fulfill. However you can check below given details for your other eligibility conditions for various defense forces in India. These are as follows:
Educational Qualification for Army Wing of NDA
Candidate must be 12th Class pass of the 10+2 pattern of School Education or equivalent examination conducted by a State Education Board or a University
Educational qualification for Air Force and Naval Wings of NDA and for 10+2 (Executive Branch) Course at Naval Academy
Candidates appearing for National Defense Academy Examination must be 12th Class pass i.e. the 10+2 pattern of School Education or equivalent with Physics and Mathematics conducted by a State Education Board or a University
Those who are taking +2 final exam or appeared in the said exam in the present year can also appear for the entrance test provisionally subject to their fulfilling the conditions later.
Other eligibility Conditions:
Age
The candidate should be between 16-1/2 to 19 years of age.
Nationality
A candidate must either be :
1. a citizen of India, or
2. a subject of Bhutan, or
3. a subject of Nepal, or
4. a Tibetan refugee who came over to India before the 1st January, 1962 with the intention of permanently settling in India, or
5. a person of Indian origin who has migrated from Pakistan, Burma, Sri Lanka and East African Countries of Kenya, Uganda, the United Republic of Tanzania, Zambia, Malawi, Zaire and Ethiopia and Vietnam with the intention of permanently settling in India.
Provided that a candidate belonging to categories (ii), (iii), (iv) and (v) above shall be a person in whose favor a certificate of eligibility has been issued by the Government of India.
Certificate of eligibility will not, however, be necessary in the case of candidates who are Gorkha subjects of Nepal.
Required Marital Status for appearing in NDA
The candidates should be single at the time of joining any of the defense services academies.
Que. I am doing my +2 with arts subjects, am I eligible to join Indian Defense Services through NDA exam?
Minimum qualification for appearing in NDA exam is +2, so you are very much eligible for appearing in NDA exam subject to fulfilling other eligibility condition. However you can only opt for career in India Army as for Indian Air Force and Indian Navy you should have Science subjects at +2 level.
Que. I am 16 years old doing +2, can I appear in NDA exam?
You are 16 years old and minimum age for appearing in NDA exam is 161/2, thus right now you are not eligible to appear in NDA exam? But wait for the NDA exam notification and see if at that time you fit within the age limits required to appear in NDA exam.
Que. I am 18 years old student of B.Sc. second year, can I still appear in NDA exam?
Maximum age limit for appearing in NDA exam is 19 years so you are very much eligible to appear in NDA exam to join Indian Defense Services. You have another option to join Indian Defense Services i.e. complete your B.Sc and appear in CDS exam. That will probably save your one year. As you will be a graduate and of 19 years and will be eligible to take CDS exam.
Que. I have applied for NDA exam 2012, from where I can get the NDA exam paper to prepare myself for the exam?
You can get NDA exam papers from ANAND CLASSES Institution.
Que. How can I apply for NDA exam?
Aspiring candidates can avail any of the mode modes i.e. ONLINE and OFFLINE mode for applying.
ONLINE Mode:
Apply online using the website http://www.upsconline.nic.in, detailed instructions for filling up online applications are available on the abovementioned website.
OFFLINE Mode:
Apply offline in the common application form devised by the commission for its examinations which can be purchased from the designated head post offices/post offices throughout the country against cash payment of Rs.20. Each such form can be used only once and only for one examination
The candidates are advised to immediately contact the concerned post master or UPSC's forms supply monitoring cell over Tele 011-23389366/Fax 011-23387310 in In case of any difficulty in obtaining application forms from the designated HPOs/POs.
Que. I want to appear in NDA exam, will you please let me know the physical requirement for taking NDA exam?
You must be physically fit according to physical standards for admission to National Defense Academy and Naval Academy Examination as per guidelines given :
1. Must be in good physical and mental health and free from any disease/disability which is likely in interfere with the efficient performance of military duties.
2. There should be no evidence of weak constitution, bodily defects or under weight. you should not be overweight or obese.
3. The minimum acceptable height is 157.5 cms. (162.5 cms for Air Force)
Imp: Height relax able upto 2.5 cm (5 cm. for Navy) may be allowed where the Medical Board certifies that the candidate is likely to grow and come up to the required standard on completion of his training.
Chest should be well developed. Fully expanded chest should not be less than 81 cms. The minimum range of expansion after full inspiration should be 5 cms.
There should be no disease of bones and joints of the body. Minor congenital defects which are not likely to interfere in the performance of military duties may be acceptable on merit.
Er. Neeraj Anand is a freelance mentor and writer who specializes in Engineering & Science subjects. Neeraj Anand received a B.Tech degree in Electronics and Communication Engineering from N.I.T Warangal & M.Tech Post Graduation from IETE, New Delhi. He has over 15 years of teaching experience and serves as the Head of Department of ANAND CLASSES. He concentrated all his energy and experiences in academics and subsequently grew up as one of the best mentors in the country for students aspiring for success in competitive examinations.