Welcome To The ANAND CLASSES
ANAND CLASSES (SCHOOL OF COMPETITIONS), which is registered under company act 1956. Anand Classes are the most trusted result producing training edu-Corporate of India. Anand Classes provides education, training and guidance to all aspiring students of India. Anand Classes's knowledge bank and R & D cell comprises-top brain of the country including Engineering Services officers, Civil Services officers, top management from public sector units, MNC's leaders from private sectors and reputed professors from various engineering colleges. Our R & D cell has developed a "Fool-Proof" methodology to prepare our student for NDA, CDS, IIT-JEE, NEET, AFCAT, IES, GATE & PSU's Exam. It builds up the student's knowledge, confidence, mental & emotional stability. Once a student has enrolled for our courses he needs no external help.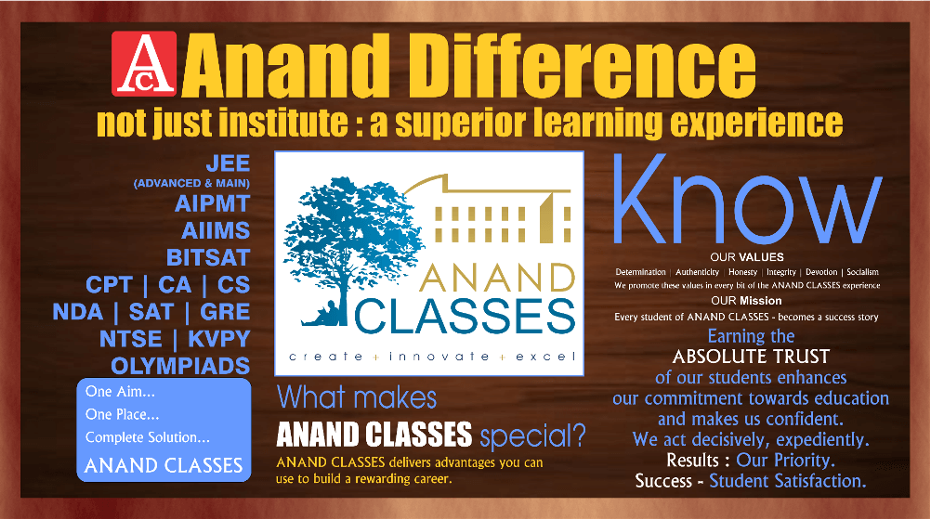 Getting yourself in India's most prestigious academies such as IITs, NITs, AIIMS, National Defence Academy (NDA), Combined Defence Services Exam (CDSE), Officers Training Academy (OTA) etc, is the most important effort you can make to succeed in today's challenging world. The power to transform your ability into a succinct and a wide knowledge base ensures you success.
ANAND CLASSES strive to prepare you for leadership in this ever-changing, competitive world by maintaining the highest standards for the faculty and the staff. Our goal is to make your time with us worth your effort by providing an academically, professionally and intellectually in your personal life.
ANAND CLASSES stays in front of the success curve by knowing what factors drive success in the competitive exams. Our results are testimony of our commitment to teaching for competitive exams; combining theory, continual practice and proper time management.
Today, ANAND CLASSES and the aspiring students are walking together to redefine success with confidence.
Our faculty stress on building well the fundamentals of our students, something very important for exams like NDA, CDS, AFCAT, OTA etc..
Excellent course material, experienced faculty and a committed management have built ANAND CLASSES into the most trusted institution in the area of preparing students for competitive entrance examinations for admission to professional courses.
Why to choose ANAND CLASSES ?
THE VALUE SYSTEM
ANAND CLASSES value system revolves around truth, transparency & commitment. Whatever we think, we say & whatever we say, we do. We present to you what we actually are. 
BEST FACULTY
ANAND CLASSES has a pool of maximum competent full-time faculty ensuring you get highly effective teachers in all the subjects throughout your studies. 
PATTERN PROOF TEACHING METHODOLOGY
Testing pattern of NDA/CDS/AFCAT/IMU-CET keeps on changing but the key aspect of the test is to judge the analytical ability of the aspirants along with the understanding of fundamentals. Students having sound understanding of fundamental concepts & practicing persistently with all types of problems will always outperform Students who are only conning their preparation to the pattern rather than understanding the concepts. ANAND CLASSES has always been preparing Students in a fundamental way. ANAND CLASSES has been teaching in a comprehensive way so that Students do well in NDA/CDS (irrespective of the pattern), Boards, KVPY, Olympiads and other Defence Exams. 
BEST STUDY MATERIAL AND PRE-RECORDED LECTURE DVD'S
Study material and Pre-Recorded Lecture DVD's of Anand Classes comprises of a systematic coverage of relevant theory notes on each chapter of the syllabus of respective examination. The study materials contains specially designed exercises as per the newest pattern of various competitive examinations, a self monitoring stage by stage system helps you to analyse your own growth and boost your confidence gradually. 
PERSONALIZED COACHING
Individual attention is given to each and every Student irrespective of one's standing in the merit at any point of time. We never increase our batch size beyond a limit, this facilitates proper Student-Faculty interaction. Our faculty is always willing to clear doubts of Students even individually, if required. 
THE WINNING METHODOLOGY
Our Methodology makes the Students capable of creatively resolve complex & tricky problems by improving and sharpening their analytical skills & parallel thinking processes. We develop and share the right strategies from time to time to optimize Students' output. 
RESEARCH & DEVELOPMENT
Our Research and Development team works round the clock to ensure that our teaching methodology, study material and course structure is up to date. This committed team keeps a keen eye on the latest developments and changes in the NDA/CDS / other prestigious Defence Exams  and swiftly incorporates them in our course curriculum. When a Student is preparing for a challenging exam like NDA/CDS he/she wishes to prepare with the best carrier.
FACULTY
ANAND CLASSES faculty consists of luminous academic intellectuals and lecturers graduated from the country's paramount institutions. The faculty has been drawn to the gracious field of coaching with the ideal of transmit education of the uppermost values and moulding future professionals, knows to produce top rankers consistently, in year after year. The faculty is a guiding strength as well as an inspiring aspect in making student winner now and ever.
The erudite and skilled faculty follows a precise and efficient approach to teaching which ensures accomplishments. The hard work and determination of students is collective with intelligent suggestions and direction by the faculty at every juncture.
The faculty is welcoming, accessible and approachable, captivating on the floes of companion, guide and guru, at the same time.
The educational services offered by ANAND CLASSES include : 
Free Career counseling for all professions, free Advice for Documents and free Medical Examinations.
Preparation for Written Examination of NDA, Naval Academy and CDS.
SSB Coaching for NDA, Naval Academy, CDS, TGC, UES, Women Entry Scheme NCC Entry.
Preparation for Pilot Aptitude Test.
Preparation for Written Examination and interviews for Assistant Commandants of all Central forces.
Preparation for Physical Training Medical Examination, Written examination and Interviews of JCO Religious Teacher, Havaildar Education, JCO Catering and Surveyor Autocatographer of the Indian Army.
Preparation for Physical Training Medical Examination and Written examination of Soldier General Duty, Soldier Clerk/Storekeeper Technical, Soldier Technical, Soldier Nursing Assistant, Soldier Non Matric and Soldier Tradesman of Indian Army.
Preparation for Physical Training Medical Examination and Written examination Airman Group X And Y of Indian Air force.
Preparation for Physical Training Medical Examination and Written examination of Artificer Apprentice(AA), Direct Entry Diploma Holder(DEDH), Senior Secondary Recruits (SSR) Matric Entry Recruit(MER) Musician and Non Matric Recruit.
Preparation for Physical Training Medical Examination and Written examination of GD, Head constable (Ministerial, Radio Operator) Assistant Sub Inspector constable (General Duty, Ministerial, Radio Operator) of BSF, CRPF,ITBP,SSB, CISF, Assam Rifles, RPF, Coastguard, Delhi Police and Uttarpradesh Police.
Entrance examination of Military School, Sainik School, Rashtriya Indian Military College and Navodya Vidyalaya.
Preparation for Written examination and interviews for all posts of Banks and Railways.