| | |
| --- | --- |
| LIVE ONLINE CBSE ICSE MATH SCIENCE ENGLISH CLASS V TO X COACHING CLASSES IN JALANDHAR PUNJAB | Helpline : 9464645100 | 9463138669 |
Call 9463138669-ANAND CLASSES|At Anand Classes-A SCHOOL OF COMPETITIONS are imparting the quality online education for class V-X students for improving their performance in term of thinking, concept building & generating best possible results in school examinations. We assure you an improved percentage and rank for your ward in upcoming exams. So, your search for a veracious class V,VI,VII,VIII, IX & X institute ends here.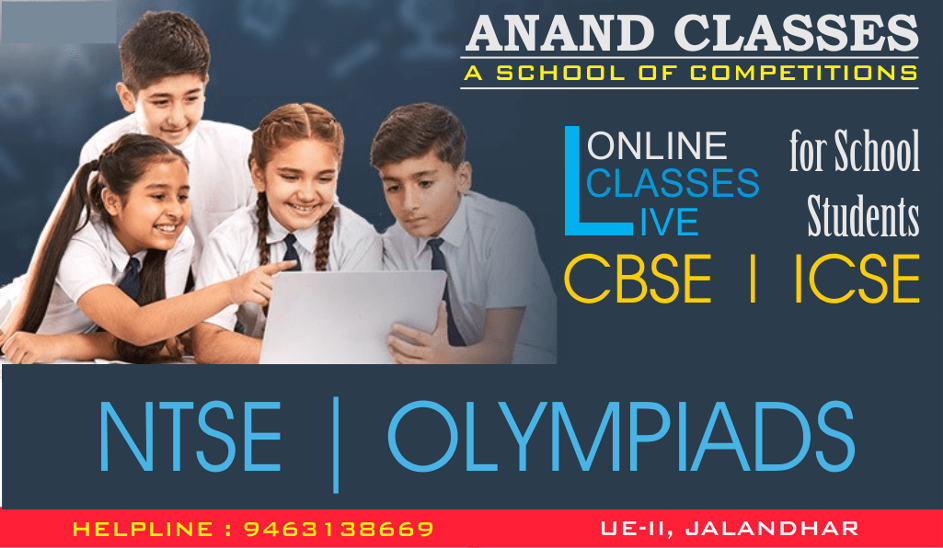 "ANAND CLASSES" CBSE Online Classroom Program for students of Class V,VI,VII,VIII, IX & X is one of the major sources of the future Toppers of Anand Classes. "ANAND CLASSES" CBSE (Central Board of Secondary Education) department religiously follows the scholastic domains identified by CBSE in their official website www.cbse.nic.in and define the institution qualitatively.
"ANAND CLASSES" provide Online Classroom Programme, Mock Test Programme and Capsule programme for our CBSE students. The Online Classroom and Test Programme is designed meticulously to build the foundation of the students and prepare them to achieve ultimate success in CBSE Board Examination.
Our expertise lies in transforming average students to excellent performers and good students to Toppers.
"ANAND CLASSES" pragmatic approach is an ideal model to focus on conceptual understanding of the CBSE curriculum for class V,VI,VII,VIII, IX & X students.
We provide warm, caring, stimulating and challenging environment in which the students learn and develop to nurture their dreams of getting top ranks in their Board examination.